Obituary for Frank Hurnik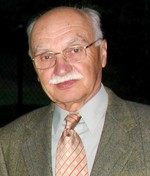 Frank passed away peacefully at the Guelph General Hospital on Sunday, June 10, 2018. He leaves behind his beloved wife Gertraude; his loving children Daniel (Stephanie), Jakub and Veronika; his grandchildren Amanda (Jim), Rhea and Rudi; and his great-grandchildren Peyton and Ethan.

Frank was born in 1932 to František and Vilemina Hurnik, who farmed in Polanka, Czechoslovakia. The Second World War disrupted an idyllic childhood, and afterward, as the iron curtain descended, there was no return to the family farm. Happy moments did come when he met Gertraude on a university exchange, and a family soon followed. Frank chafed at the lack of liberty in Czechoslovakia, and gratefully accepted Canada's gracious welcome of Czech immigrants following the 1968 Soviet invasion.

On arrival to the University of Guelph in 1968, he began studies for a PhD degree in the Department of Animal and Poultry Science, after convocation he was invited to join the Faculty and became a revered teacher and a brilliant scientist. Canada gave Frank the opportunity to realize his potential, and in response, he founded animal behavior and welfare studies at the University and on his retirement as professor emeritus his knowledge and work was internationally renowned. Frank's legacy lives on in the work of his colleagues, students, in the international reputation of Canadian livestock, and the recognition of the University of Guelph as one of the best agricultural schools in the world. Following retirement, Frank pursued his passion for agriculture more directly, by raising cattle, hay, soybeans, corn and grain on his own farm in Eramosa township.

Frank always expressed his profound gratitude for the warm reception Canada extends to immigrants, and his life is the testament to what can be achieved when opportunity is given. To the end, Frank was a gentleman, a scholar, and a farmer, he left the world a much better place than when he found it. In lieu of flowers, memorial donations to the charity of one's choice would be appreciated by the family. Donations and condolences can be sent online.

Cremation has taken place, a private burial will follow at Eramosa Union Cemetery. A Celebration of Frank's Life will be held on Monday, July 9, 2018 from 2:00 - 4:00 p.m. in the Hart Fellowship Lounge. Family and friends are invited and encouraged to share their thoughts, stories and memories. Frank's son Daniel will begin by sharing his eulogy at 2:15 p.m.
Order Flowers